I had the opportunity to be featured on Fox News in Houston yesterday, October 27, 2012. Several of the recipes I highlighted were on previous posts below, like the orange carrot juice icing recipe I highlighted from my blog post, What's the Deal with Neon Blue Icing, we featured this naturally dyed icing on top of our super brownies! Here is a link to the video segment: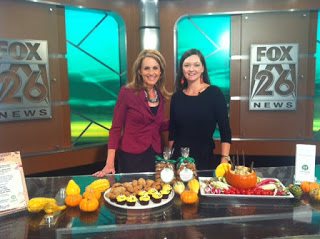 My Fox Houston video link
The other recipe featured on the show, we served inside a pumpkin with black carrots sticking out like scary fingers!
Pumpkin-Seed Hummus
½ lb Dried baby chickpeas (soaked overnight)
3 cups roasted pumpkin seeds (see recipe)
3 Cloves garlic, crushed
¼ cup lemon juice
1 cup tahini
1 tsp salt
2 Tbsp paprika
Drain the chickpeas, then cover them with water and simmer until soft. Lightly season your mixture, then let it cool. Now drain the chickpeas again, preserving the liquid. In batches, puree the chickpeas, garlic, pumpkin seeds, lemon juice, and enough of that reserved liquid to spin it all, adding tahini once smooth. Adjust seasoning with paprika, salt, and lemon.
Roasted Pumpkin Seeds
3 cups raw pumpkin seeds, scooped from a pumpkin or bought at the grocery store
3 Tbsp kosher salt
1½ Tbsp olive oil
¾ tsp paprika
¾ tsp dried ginger powder
¾ tsp cracked black pepper
Preheat the oven to 400F. Fill a large pot with 8 cups of water. Add the pumpkin seeds and salt. Set the pot to boil over high heat. Bring the water to a rolling boil and allow it to boil for a moment. Turn the heat down to medium-low and let the pumpkin seeds simmer for 10 minutes.
Our healthy snacks and treats, like the organic zucchini chocolate chip cookies, gluten free almond butter and strawberry mini muffins, super brownies and many others can all be purchased through Green Plate Kids. In you live in Houston, there are several retail locations that carry Green Plate Kids products, or you can simply order online and select to pick pick-up at one of our free pick up locations or delivery can be arranged. We also ship anywhere in the country!
www.greenplatekitchen.com
Don't forget to check out our healthy treat suggestions for treats to give away on Halloween and if you are in Houston, come by Dr. Natalie Harrison's office to sell them your excess Halloween candy for a good cause!
Healthy Regards,
Lisa Pounds