Wow, can hardly believe the end of summer is in sight, sniff, sniff! Time to squeeze in any last minute vacations! And dare I say, start to think about back to school? Shopping for clothes, supplies and the dreaded packing of the school lunches and snacks! Yikes! Can be so overwhelming!
It doesn't have to be, and sometimes you just need to get out of your current habits and start trying some different things! They don't have to be super creative and fancy, but new combos, or presentation can make all the difference! Marketing works wonders on our kids too! 🙂 Amazing what putting something on a stick or adding some magical princess dipping sauce can do for some fruit or veggies! Just make sure that snacks are scheduled and not just offered on demand limitless times throughout the day or else those little guys won't be so inclined to eat that broccoli at dinnertime!
I was just featured on our local Houston TV news channel addressing healthy snacks, here is the short video segment: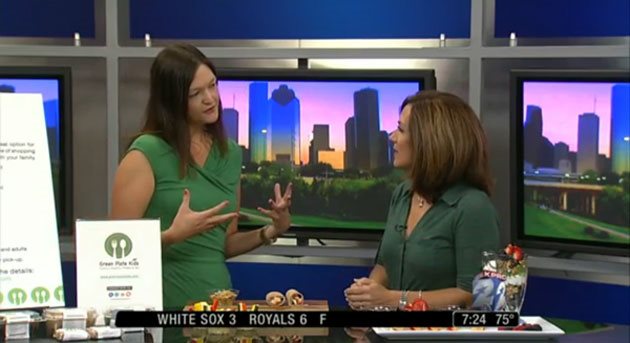 Healthy Snacks on Click2Houston
The parfaits, and granola roll up recipes and pictures are listed on an earlier blog of mine on May 12, 2012.
Here is a good list of some other great snacks and ingredients to have on hand:
Fruit
Ready-to-eat (apples, bananas, grapes, cherries, berries)
Sliced (oranges, kiwi, melon)
Dried (raisins, apricots, cranberries, figs)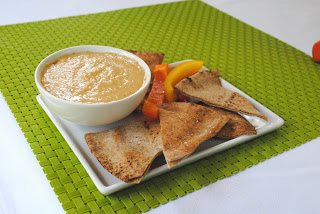 Green Plate Kitchen Hummus with whole wheat pita and veggies
(Recipe Below)
2. Vegetables
Cut up with a favorite dip
Soup
Roasted and made into a dip
Raw slices on a sandwich (My daughter loves avocado and cucumbers on her Turkey sandwich!)
3. Nuts and Seeds
Toasted sunflower or pumpkin seeds
Raw or toasted peanuts, almonds or walnuts
Peanut, Almond, Sunflower butter or Hazelnut spread (Love Justin's Brand) spread on bananas, celery or crackers (Make sure it does not contain HFCS!)
4. Yogurt, Milk and Cheese (Low fat versions for 2 years +)
Plain yogurt mixed with honey and vanilla
Yogurt and fruit smoothie
Cheese and crackers
Cottage cheese and sliced fruit or vegetables
Cheese stick
5. Meat, Eggs and Beans (Lean cuts and low fat versions are best)
Deli slices of turkey, ham or roast beef with crackers
Chili and crackers
Hard-boiled egg
Mini bean and cheese burrito
6. Grains (WHOLE Grains)
Crackers
Toast
Animal crackers
Graham crackers
Mini bagels
Pasta, rice or potato "salad"
Green Plate Kitchen Hummus Recipe
Yield: 2 cups
15 oz. can Chickpeas
3 Tbsp Tahini Paste
⅓ cup Lemon Juice
¼ tsp Kosher Salt
¼ tsp Ground Black Pepper
¼ tsp Paprika
2 tsp Minced Garlic
1 Tbsp Chopped Parsley
2 tsp Olive Oil
¼ cup Water
Puree all ingredients in food processor until creamy and smooth.
Enjoy the end of summer and Happy and Healthy Snacking!!