Tick or Treat! Are your kiddos busy picking out their costumes while you are planning the many party festivities?
I love this amazing Halloween Freakynomics Infographic!
Some astonishing statistics about Halloween:
$2 billion dollars will be spent on candy
9 billion kernels of candy corn will be made
900 million pounds of pumpkins have been grown for Halloween
It's predicted people will spend $370 million on pet costumes this year
I am a huge fan of Healthy Child Healthy World, they put out a great blog on how to Green your Halloween: Green Halloween Blog
Here is a super cute little recipe we have done for Halloween catering that the kiddos love: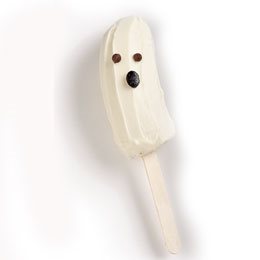 Remove any stringy fibers from the peeled banana, then cut it in half width-wise.
Push a Popsicle stick into each half through the cut end, then cover each pop with plastic wrap and freeze until firm (about 3 hours).
Next, place a 1.5-ounce piece of white chocolate candy in a microwave-safe bowl and cook on high until melted (it generally takes about 1 minute).
With a butter knife, spread the melted white chocolate on the frozen banana halves.
Set the pops on a waxed-paper-covered dish. Press on candies or currants for eyes and mouths and return the pops to the freezer until ready to serve. Makes 2.
Candy or Special Treat ideas for Halloween without all the toxic ingredients
Pass out candy without all the harmful ingredients that taste just as good. Here are some candy alternatives that will make you a poster mom for your neighborhood's health:
Healthy Child Healthy World's approved list includes: UNREAL™ Candy offers chocolate treats that taste remarkably similar to major commercial products but without artificial colors, dyes, sweeteners, preservatives, hydrogenated oils and GMOs. Plum™ Kids offers individually packed USDA organic Fruit & Veggie Shredz, which taste like Sour Punch Ropes.ClifKids USDA organic twisted fruit ropes are gluten-free and contain no processed sugars.Surf Sweets® offers a wide variety of gluten-free, organic gummies, sour bears and jelly beans.
Or I love the little pretzel bags and clementines are great also! So are fun stickers!!
In Houston, Green Plate Kids is sponsoring a candy buy back program with Dr. Natalie Harrison's office (She is a Pediatric Dentist). The candy they buy back at $1/lb. will go to Operation Gratitude supporting America's Troops and goes to care packages for them. What a neat way to get rid of that extra candy in your house and get your kids involved in doing something good for our troops! (Link to details on this event scheduled on Nov. 1st are on GPK's Facebook page and Dr. Harrison's website.)
Happy & Healthy Halloween!
Lisa