Happy Memorial Day! I just dusted off my black bean and lentil burger recipe to get ready for this weekend with my family and my daughter and I have been so enjoying blackberries over the past few weeks and I was reminded of my great Black Super food recipes that I presented on Great Day Houston last year. There are some amazing benefits to eating black or darker foods, the darker the better nutritionally! So try black rice instead of brown, black lentils instead of green, black soybeans (if you can find them!) instead of green and enjoy this great burger recipe as you fire up the grill this weekend!
Enjoy!
Healthy Regards,
Lisa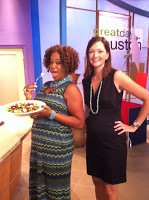 PS: Enjoy the informative and funny video. My test subject wasn't quite sure what to make of my black bean burger as she usually eats McDonald's! 🙂
Great Day Houston Show 9/16/11
Black Bean and Lentil Burger
Yield: 4 Burgers
½ (16 oz) can Black beans, drained and rinsed (8 oz)
8 oz cooked Black lentils or French green lentils
½ Green bell pepper, cut into 2″ pieces
½ Onion, cut into wedges
3 cloves Garlic, peeled
1 Egg
1 Tbsp Chili powder
1 Tbsp Cumin
1 tsp Thai chili sauce or hot sauce (we used Sambal)
½ cup bread crumbs (we use brown rice crispies to make gluten free)
Directions
If grilling, preheat an outdoor grill for high heat, and lightly oil a sheet of aluminum foil. If baking, preheat oven to 375F (190C), and lightly oil a baking sheet.
In a medium bowl, mash black beans and lentils with a fork until thick and pasty.
In a food processor, finely chop bell pepper, onion, and garlic. Then stir into mashed beans.
In a small bowl, stir together egg, chili powder, cumin, and chili sauce.
Stir the egg mixture into the mashed beans. Mix in bread crumbs until the mixture is sticky and holds together. Divide mixture into four patties.
If grilling, place patties on foil, and grill about 8 minutes on each side. If baking, place patties on baking sheet, and bake about 10 minutes on each side.
Add 1 oz. of cucumber dill dressing with arugula, roasted red peppers and serve on toasted whole wheat or whole grain bun.
Cucumber Dill Dressing Yield: 1 cup dressing
1 cup Greek Nonfat yogurt
2 tsp fresh Dill, chopped
2 tsp Honey
2 oz fresh-squeezed Lemon juice
2 oz minced English cucumber
½ tsp Kosher salt
½ tsp White ground pepper
Stir to combine.
Great Day Houston
Green Plate Kids featured on Great Day Houston 9/16/2011
1 gallon Brewed tea
½ cup fresh Mint
2 cups fresh Blackberries
½ cup Agave nectar
Blend well in mixer and pour over ice, garnish with lemon and mint and enjoy!
Black Rice Salad
2 cups cooked Black rice (rinse rice well before cooking)
2 oz small Diced red and green bell peppers
2 oz small Diced sweet yellow pepper
3 oz small Diced English cucumber
½ cup dried Cranberries
Toss to combine with Red Wine Vinaigrette.